29,360 Original Miles
Manual Transmission
4.6L Supercharged V8
~415 hp @ 5800 RPM*
Capable 0-60 MPH: 4.5 seconds
Top Speed: 160 MPH
*Base Price in 1998: $25,710
*Seller Asking:
$18,500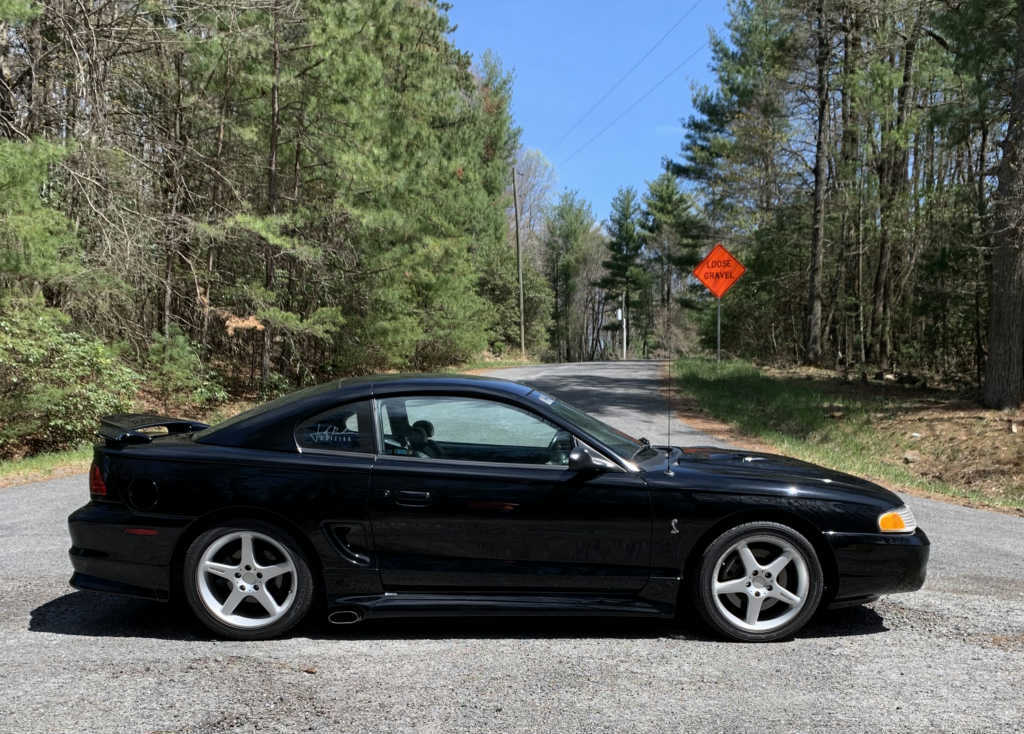 Fast Facts:
Jack Roush created Roush Performance Products in 1995 and worked with Ford dealers to offer 3 different stages of upgrades for the period Mustang GT (SN95). For the SVT Cobra, Roush offered a unique package known as the "Roush Cobra Mustang Package" (shown here) which added up to 100hp over the base Cobra thanks to a Vortech Supercharger ("Roushcharger")
This package can be distinguished by the side exhaust exit, custom rear bumper, bespoke rear wing, 18″ Roush wheels and a trunk tool kit. While a standard Roush Mustang GT could be had with the same aforementioned items, a genuine Roush Cobra will retain the OEM Cobra front bumper and Cobra snake fender emblems
Jack Roush began as an engine development engineer at Ford Motor Company before evolving into a highly successful racer. His credentials are nowhere short of incredible: the Roush Racing team has won 24 championships since 1984, as well as 325 Cup Series victories, 5 NASCAR owner championships, and 3 NASCAR driver's Championships. He was also partially responsible for pioneering the roof flaps that disrupt airflow and prevent stock cars from going airborne (found on all modern NASCAR stock cars). It's of no surprise that Jack Roush was inducted into both the Automotive Hall of Fame and NASCAR Hall of Fame
According to Mustang Engine Supervisor John Hasse, developing the Cobra's DOHC Cobra engine took nearly 4 years. The engine blocks are imported from Italy, and both the head and block castings are supplied by Texit (a division of Fiat)
The Cobra's V8 was produced off-line using a dozen two-member teams. Each team builds one engine from start to finish, and then signs it off. It was a very similar procedure used by Aston Martin, who was owned by Ford at the time
Key Model Year Changes:
Final year of the 1st generation Roush SN95 Mustangs
Clock pad is deleted from the dashboard, and dual cup holders are added
The following year (1999) saw a redesign of the SVT Cobra
Seller Notes:
29k original miles
Roush Cobra Mustang Package w/ optional Roush suspension (Bilstein shocks, 1″ lower ride height, snubber, Roush springs and front sway bar)
Very few built in 1998
Vortech Supercharged ("Roushcharger")
3rd owner
Black on Black
No issues other than road rash on front passenger wheel
No rust or damage
No oil leaks
Tires are near new
CONTACT SELLER – Update: Seller's Autotrader ad has been deleted (sold or removed from market)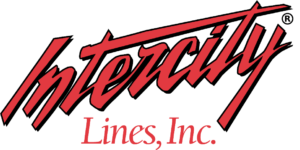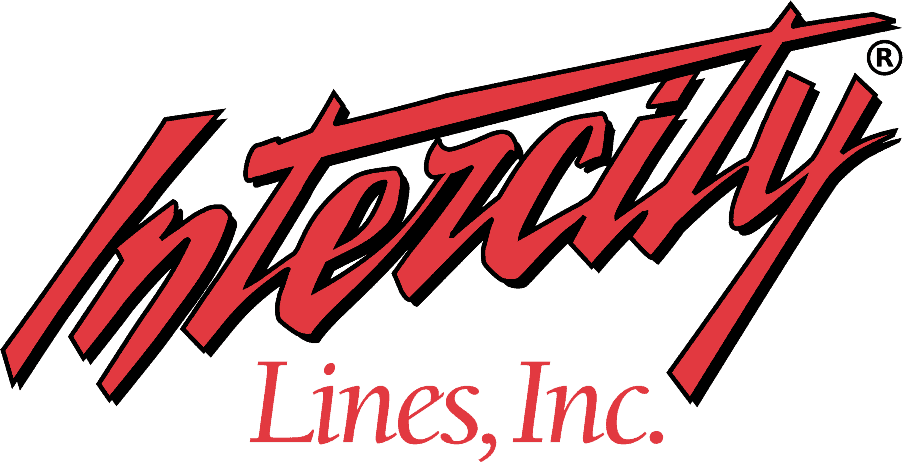 – Click for shipping quote –
NEVER MISS A CAR!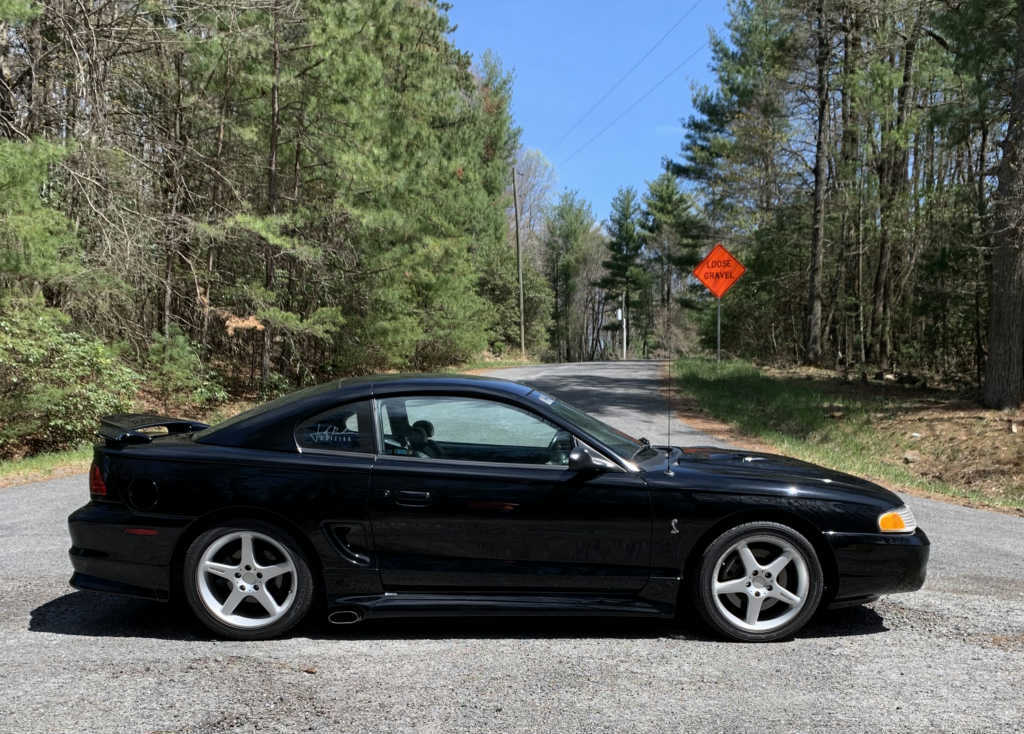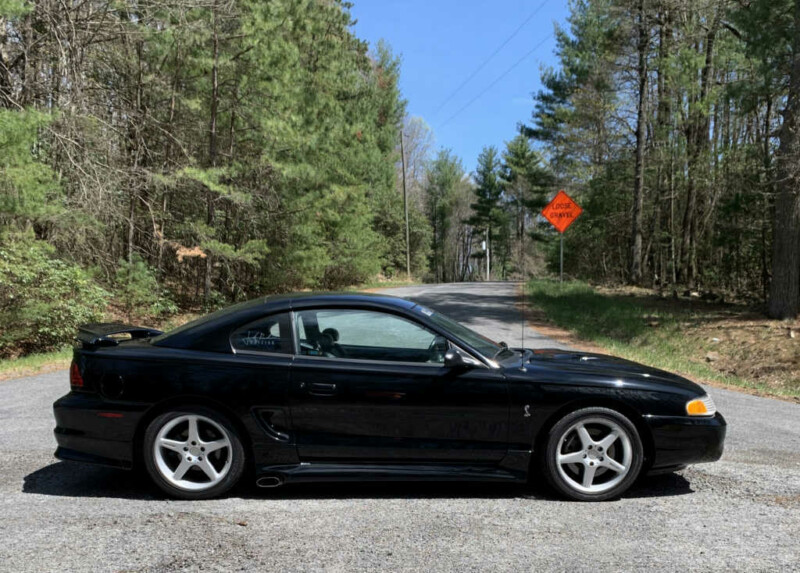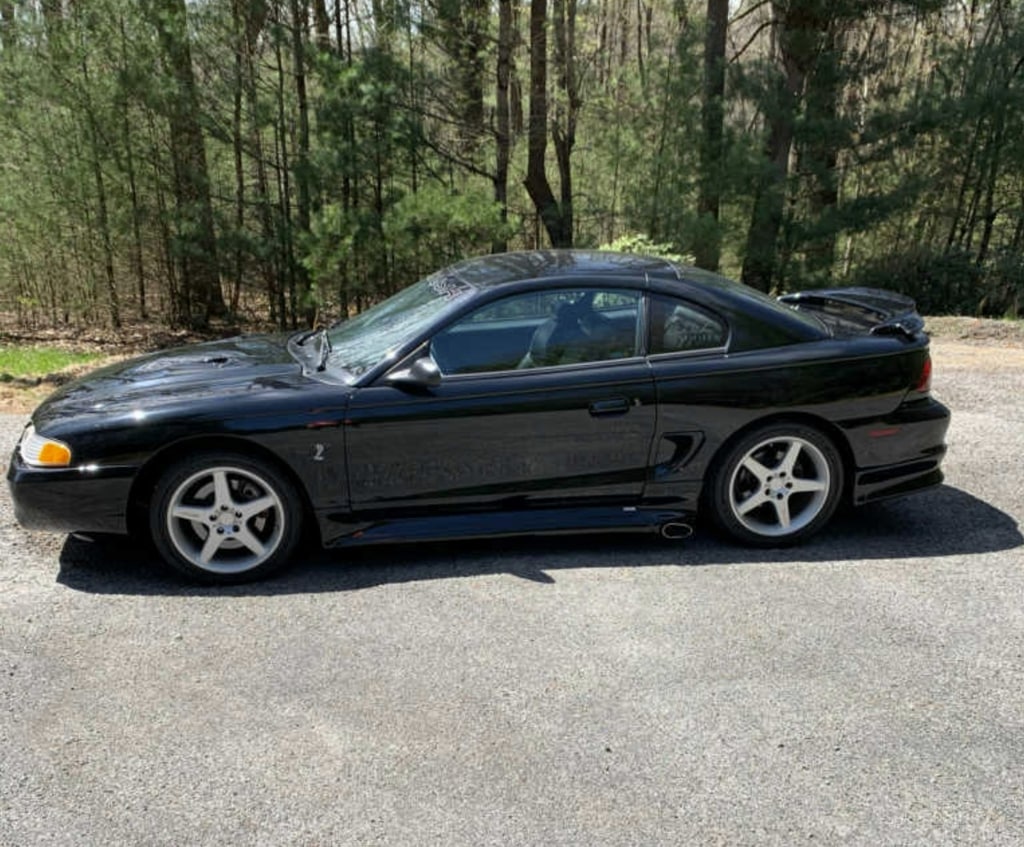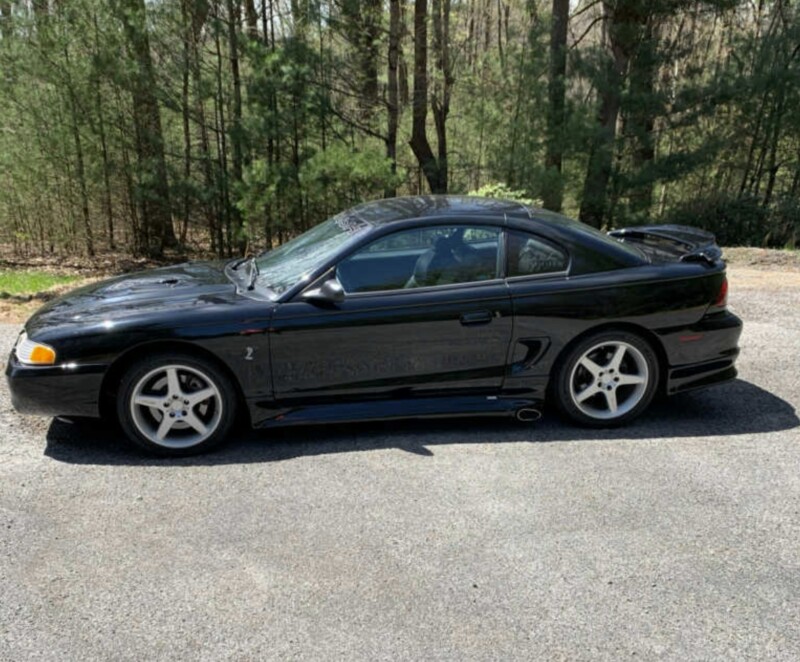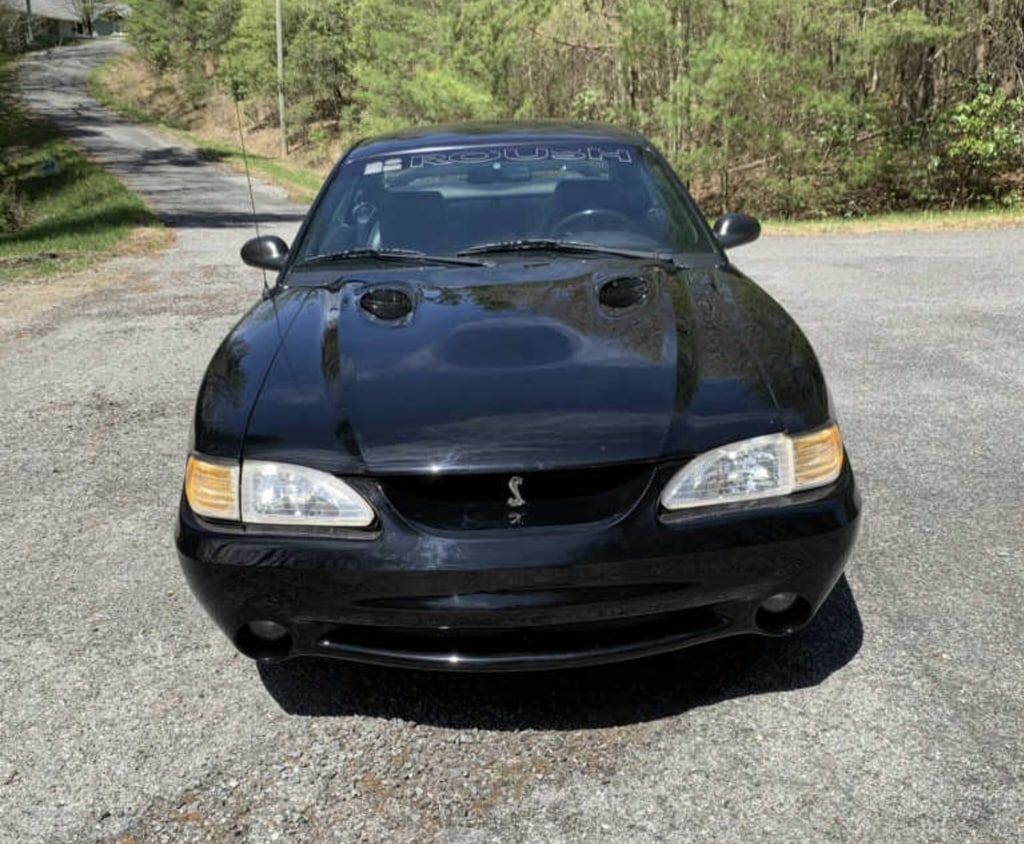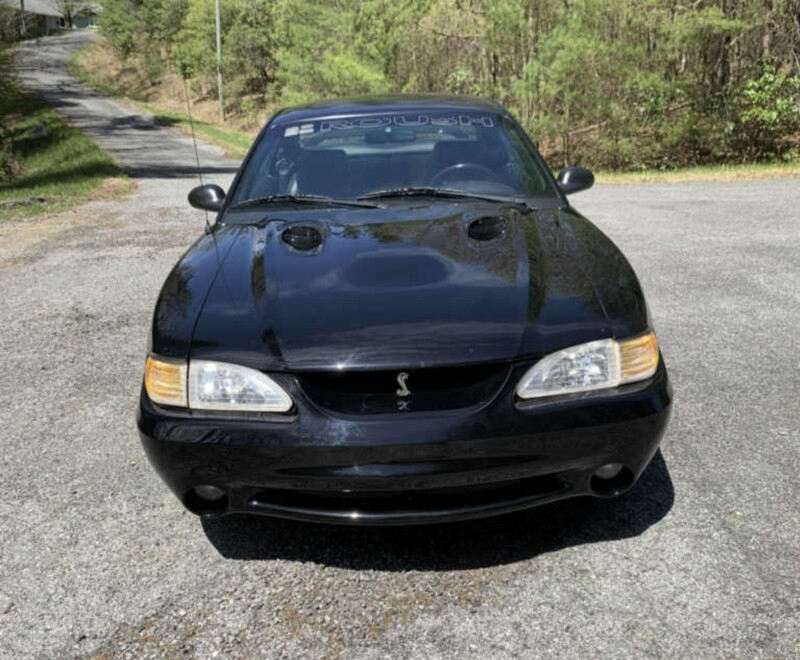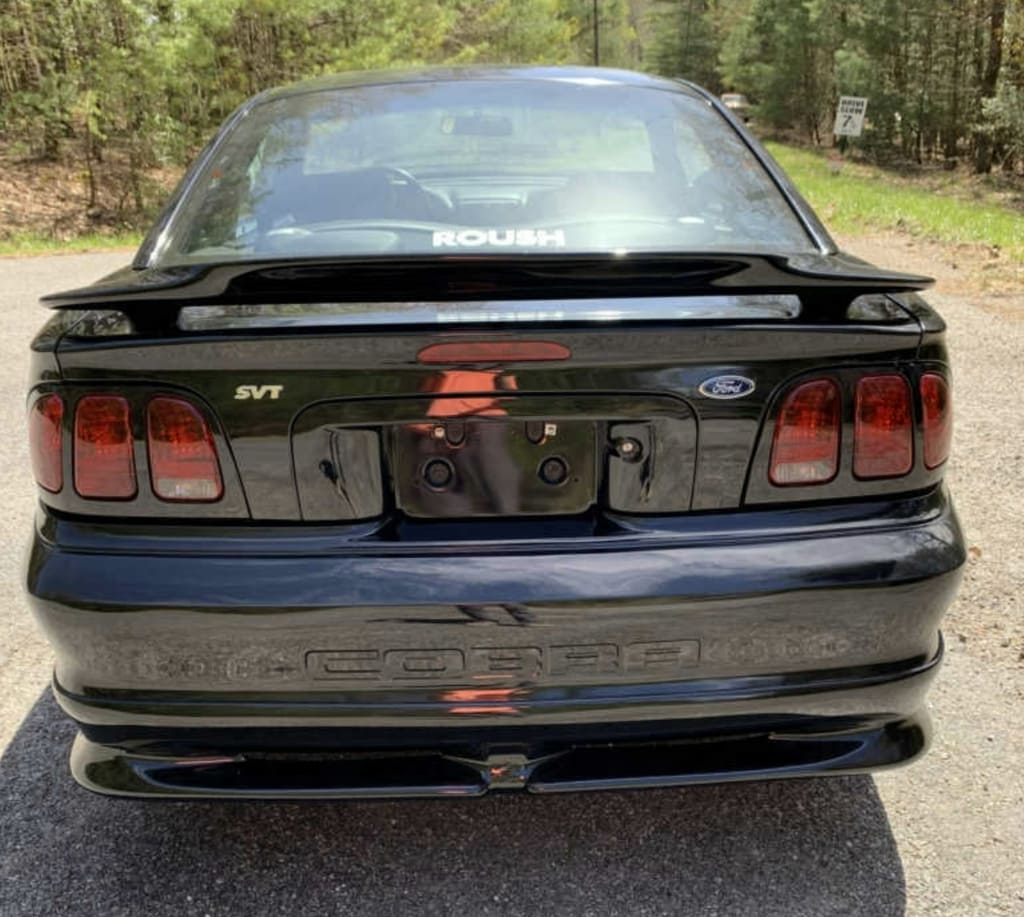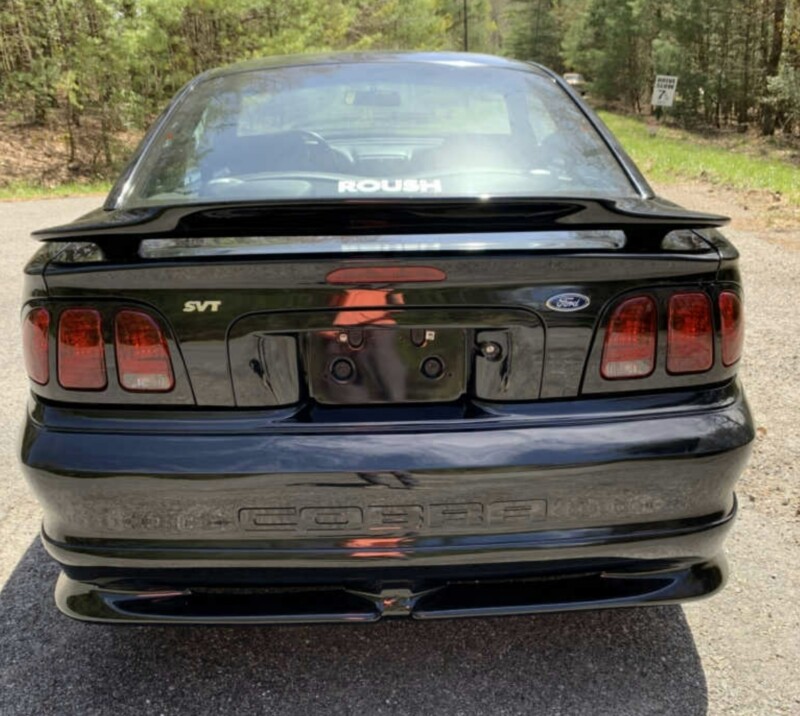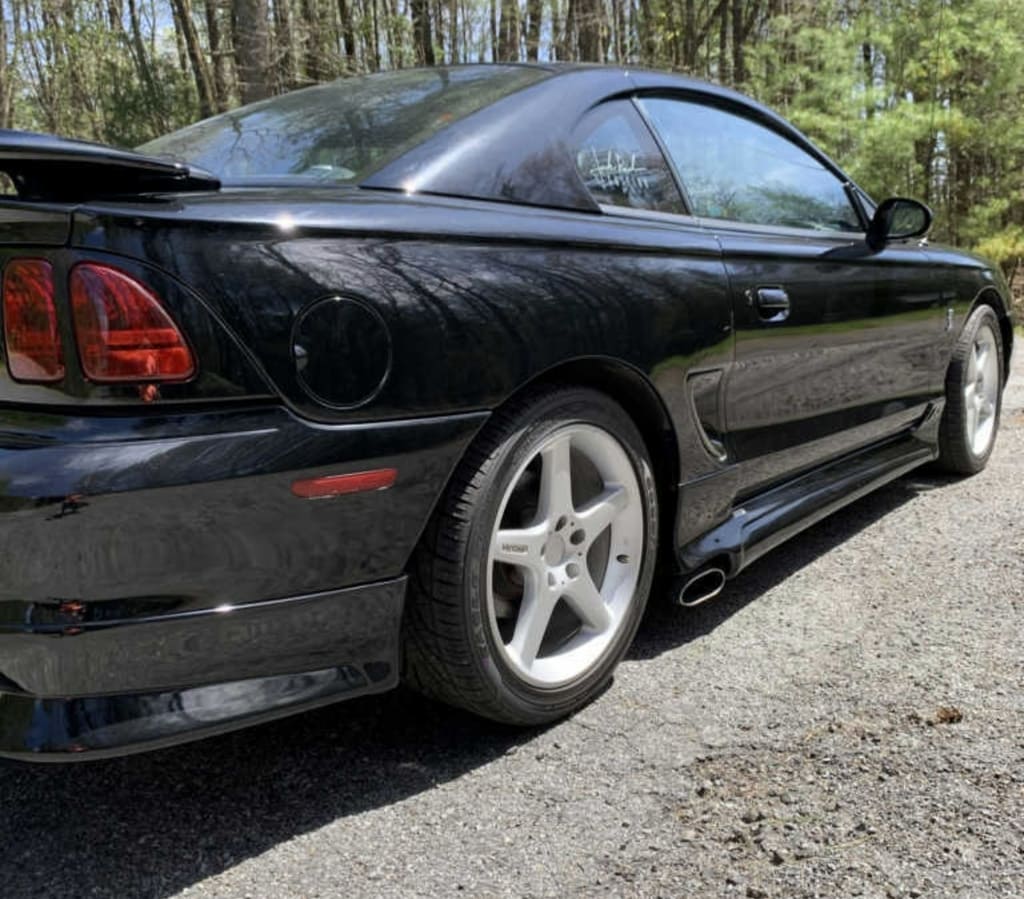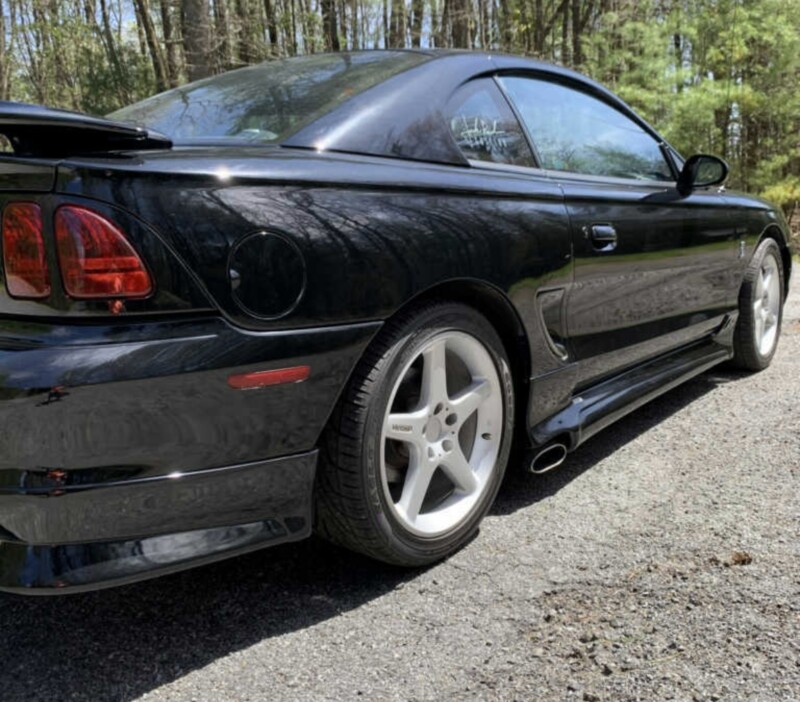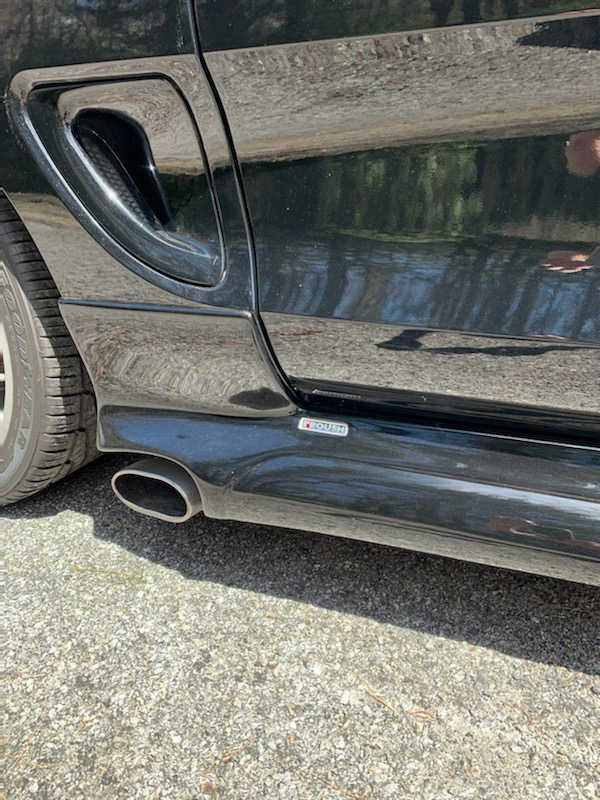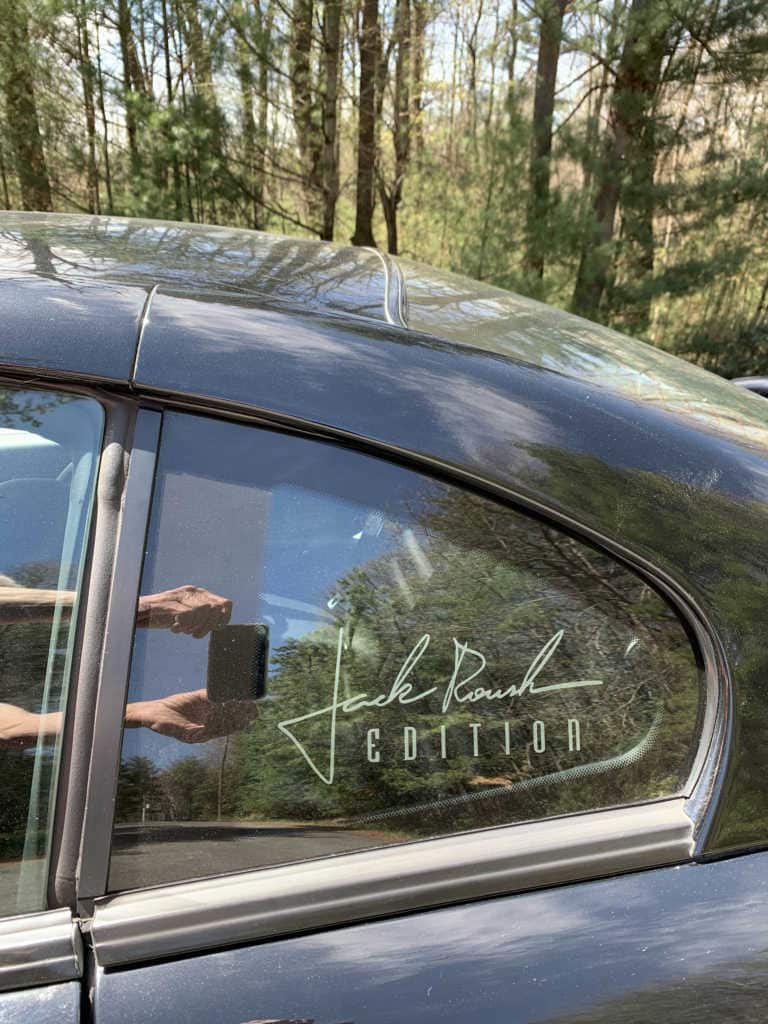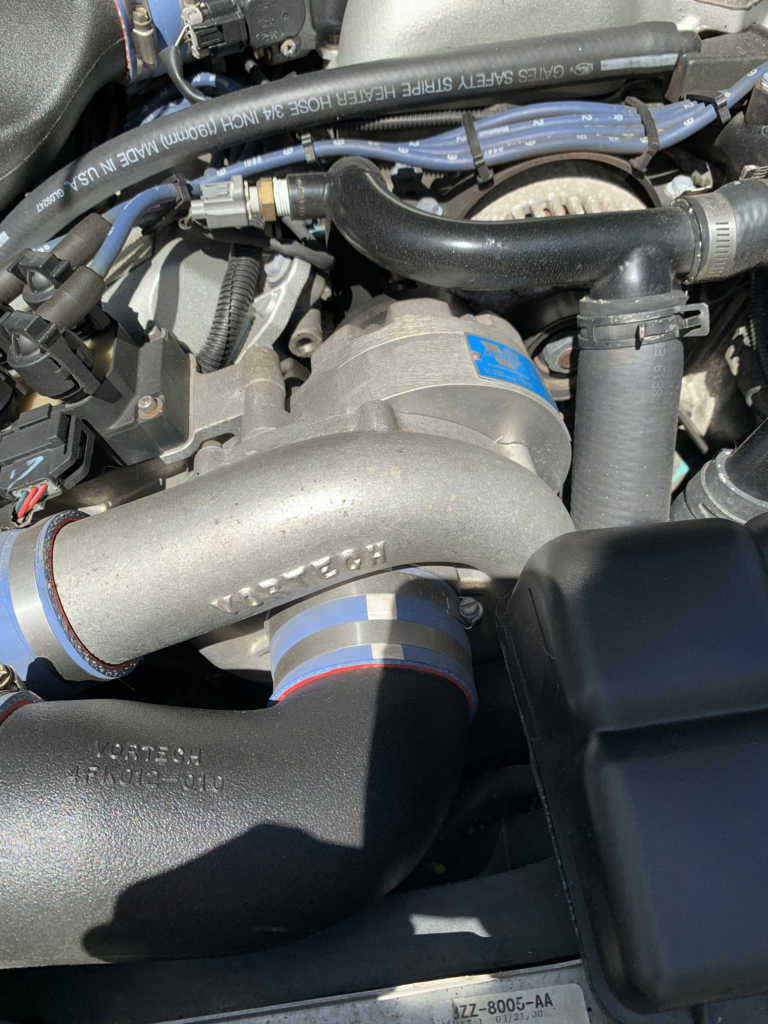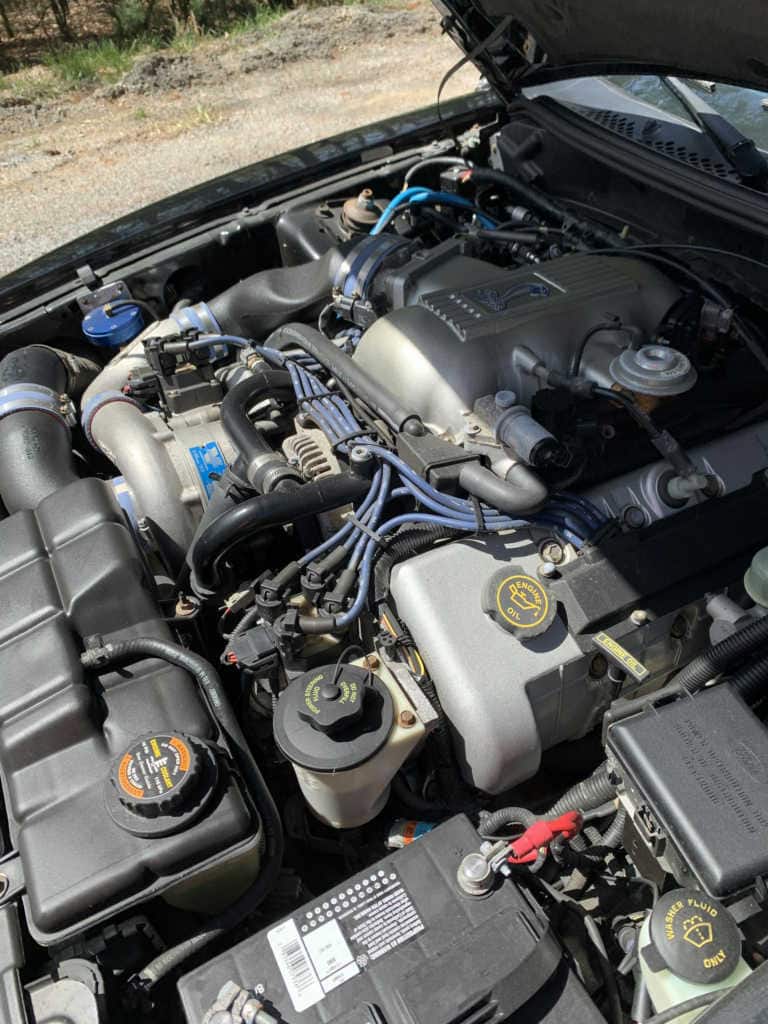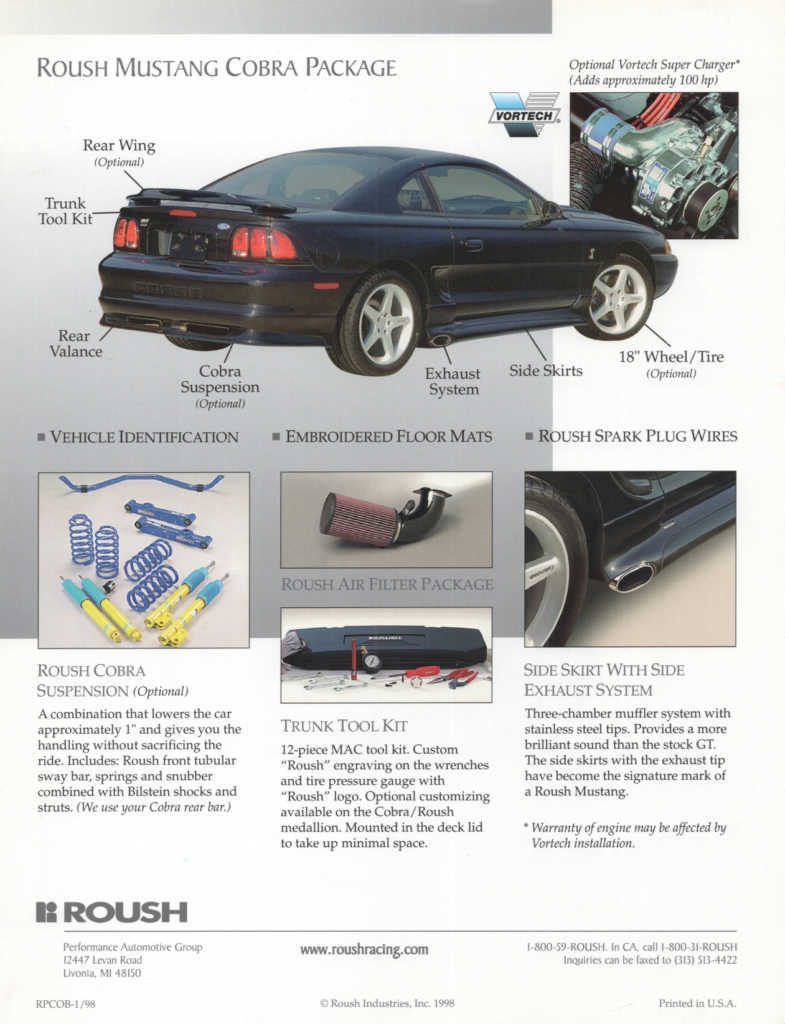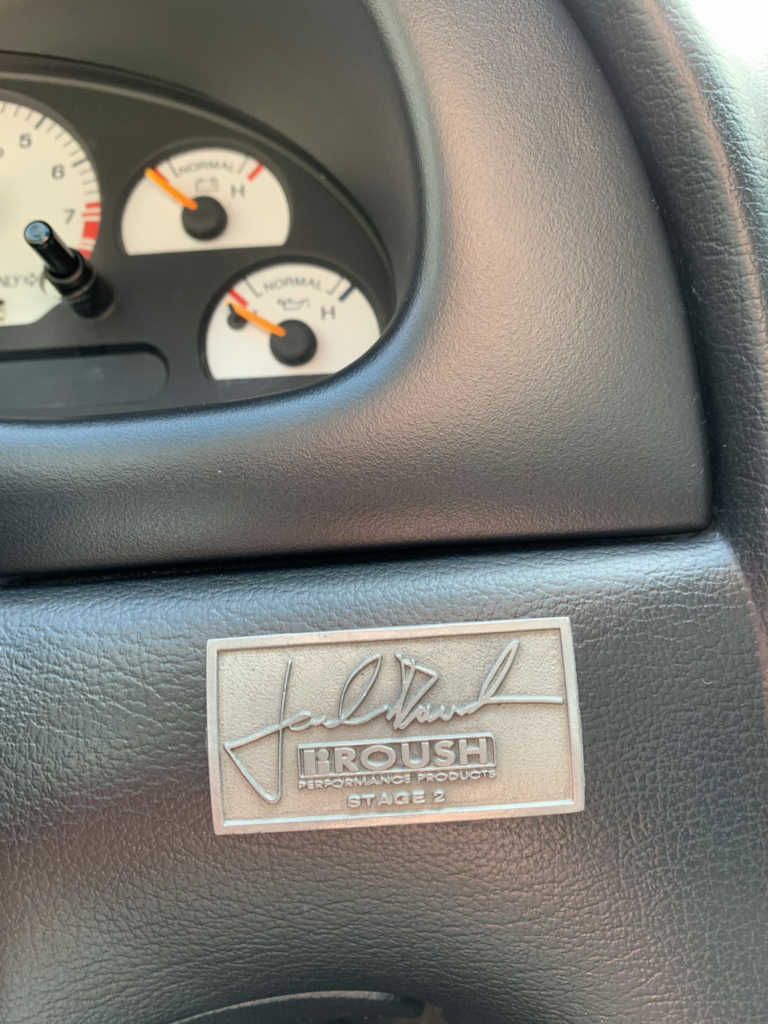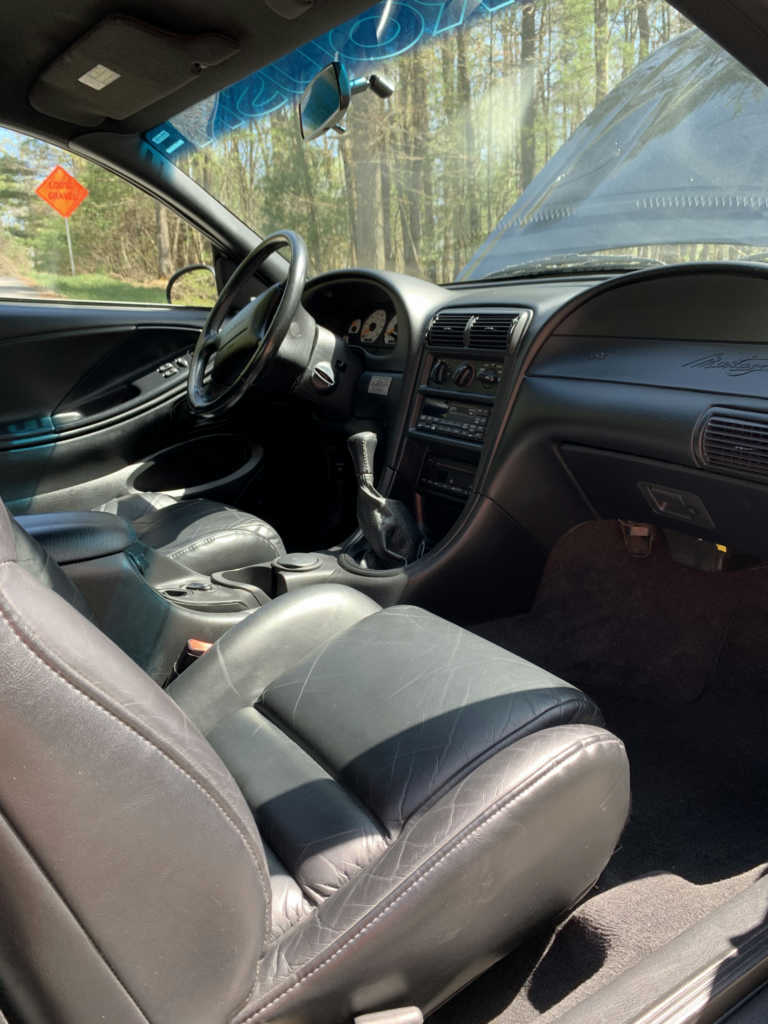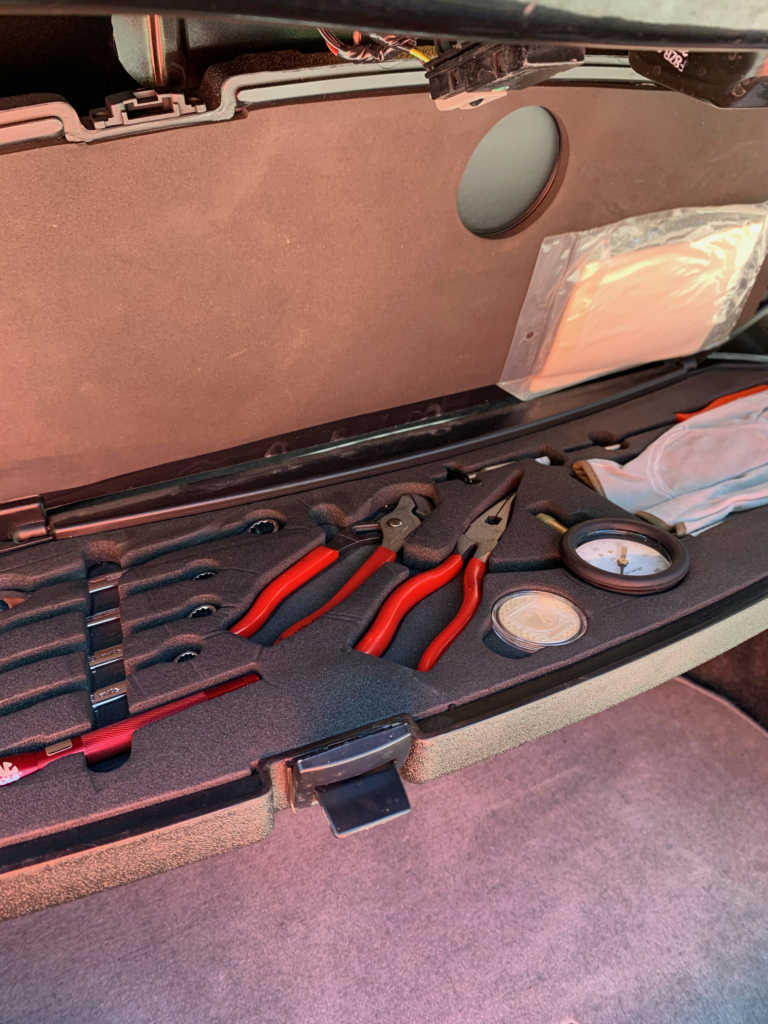 To list your own car, contact us
HERE
.
*SAE rated from factory. May not reflect current output.
*Performance numbers pulled from either the factory brochure or reputable automotive road tests.
*Base price when new does not reflect original MSRP of this particular car, nor does it reflect what the original owner paid for it.
*Advertised price at time of posting. Sellers can raise or lower prices on their original ad at any time. Click on the original ad to view current price/availability.
Mileage Disclaimer: NOC has not confirmed if the mileage stated by the seller is true and accurate. It is up to the buyer to verify these claims. Vehicle history reports, service records stating mileage, and even inspections of odometer tampering are recommended.
Share This Car With A Friend: