15,539 Original Miles
Manual Transmission
1.8L DOHC Inline 4
142 hp @ 7000 rpm*
125 lb/ft torque @ 5000 rpm*
Capable 0-60 MPH: 7.6 seconds
Top Speed: 124 MPH
*Base Price in 2003: $22,363
*Seller Asking:
$11,000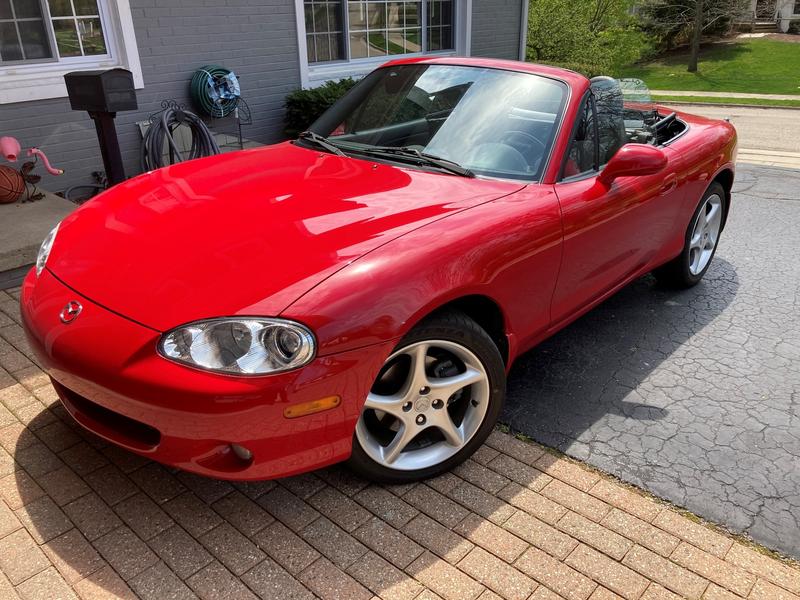 Fast Facts:
The new Tochigi-Fuji torque-sensing LSD is a clutch pack style LSD utilizing spring pre-loaded cone shaped clutches (hardened). The cone shape allows for a higher torque transfer for a given diameter than traditional flat clutch plates
A 5spd manual is standard, while a 6spd manual is only available on the top of the line LS. The shifter linkage is designed for ultra short throws (1.8 inches), and the pedals are spaced perfectly for heel/toe shifting
To achieve a perfect 50/50 weight distribution, Mazda suspended a Miata by a single steel cable connected to its exact center. This allowed ideas affecting weight distribution to be immediately visualized. This resulted in the adoption of an aluminum hood, 14″ aluminum wheels, lightweight trunk mounted battery and more – all of which contribute to a <2200 lb weight
The rigid chassis structure was designed using Mazda's Dynamic Modal Analysis software, which allowed engineers to analyze stress at 8900 body points, creating a roadster that didn't need the extra typical bracing found in other convertibles (saving weight)
The Bridgestone SF-325 tires are specially designed for the Miata. Predictability was a priority over maximum grip, which is why these tires have soft sidewalls and soft tread. The Potenza RE-71 (used on the RX-7 at the time) was considered, but engineers didn't feel they fit the Miata, citing a sudden loss of grip when pushed to its limits
Utilizes Mazda's Power Plant Frame (PPF) which locks the entire powertrain into one rigid unit. Essentially a large aluminum brace that mounts in-line with the driveshaft, connecting the transmission to the rear differential
Key Model Year Changes:
First year of the Tochigi-Fuji torque-sensing LSD (replacing the old Torsen unit)
Larger "Sport" brakes and 16″ wheels are now standard across the entire model line
This is the first year that Mazda assigned certain interior colors to certain exterior colors. You could no longer mix and match all the available colors
Rearview mirror now has optional compass, outside air temp, and auto-dimming
Seller Notes:
15k original miles. Mint condition
Always stored in garage, never driven in winter
No dents, no dings, no rust, drives like a dream
Location: Ann Arbor, Michigan – (more photos below)
UPDATE: ad is no longer available (sold or expired)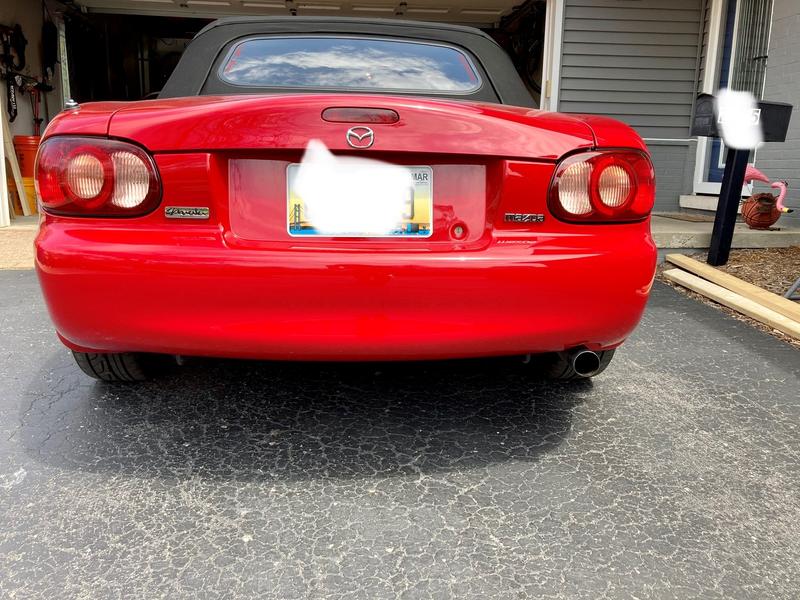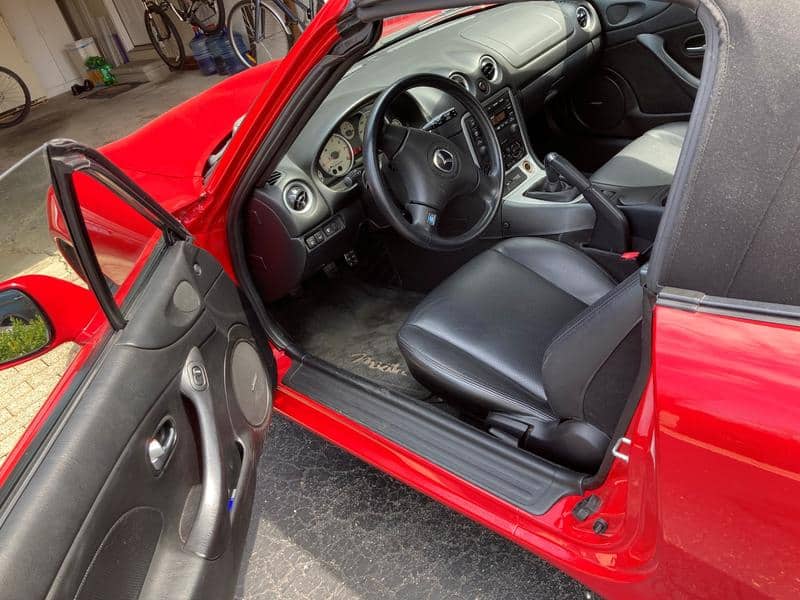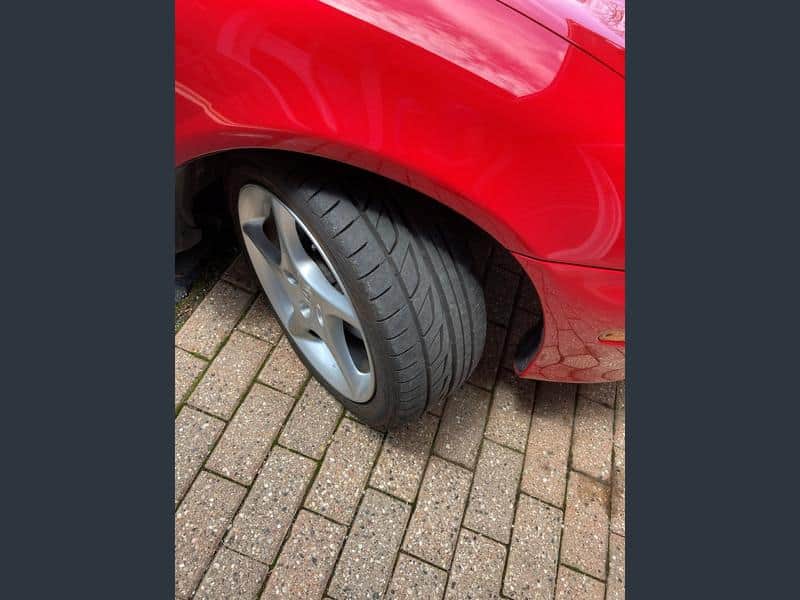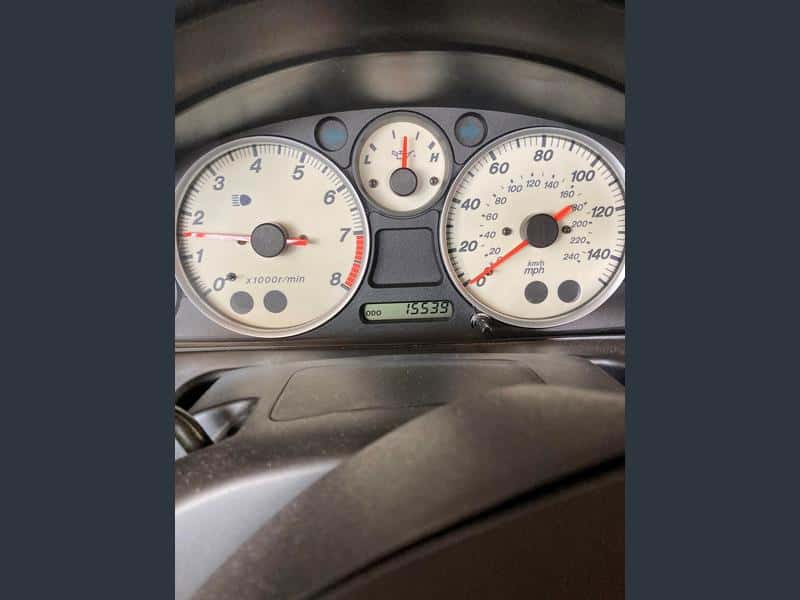 UPDATE: ad is no longer available (sold or expired)
To list your own car, contact us HERE.

*SAE rated from factory. May not reflect current output
*Performance numbers pulled from reputable automotive road tests
*Base price when new does not reflect original MSRP of this particular car, nor does it reflect what the original owner paid for it
*Advertised price at time of posting. Sellers can raise or lower prices on their original ad at any time. Click on the original ad to view current price/availability

Share This Car With A Friend:
– COMMENTS –