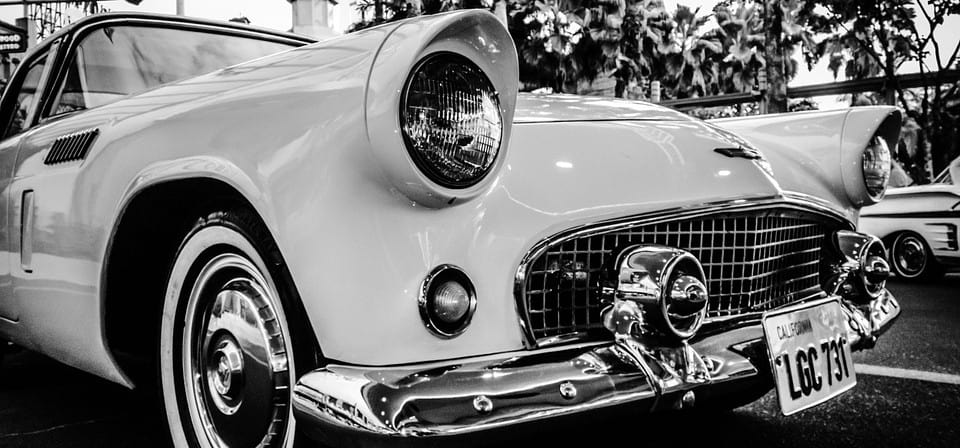 The first true sports cars appear, as well as the worlds first exotic supercars
Independent suspension replaced solid front axles
White walls trump everything
The OHV small block Chevy and Chrysler Hemi are born
The unibody chassis makes a break through
Fuel Injection begins making its way into mass-produced sports cars
Air conditioning makes a proper comeback after many poor attempts in the previous decades
This marks the final decade for the 6 volt battery, as increasing engine sizes necessitate the upgrade to a 12 volt system toward the end of the decade
Bucket seats are the norm on European cars, and American cars begin offering it as an option toward the end of the decade
Almost all American cars switched from 2 headlamps to 4 headlamps after 1958, required by a new law to increase driver visibility. Two were for low beam, two were for high beam.
The ignition starter key replaces the floor/dash mounted starter button. A simple turn of the key is all that is needed
– say hello to –
The Torque Converter!
Fuel Injection!
The Overhead Valve V8!
Air Conditioning!
FM Radio!
Power Steering!
Disc Brakes!
Seat Belts!
Cruise Control!
The Hardtop Convertible!
Turn Signals!
*The information on this page references technology that was widely available for the first time to the masses, NOT what was invented or first used on a production car during that decade. They are features and characteristics that help differentiate them from cars of previous decades