32,000 Original Miles
Automatic Transmission
6.6L 403ci Rocket V8
185 hp @ 3600 RPM*
325 lb/ft torque @ 2200 RPM*
Capable 0-60 MPH: 10+ seconds
*Base Price in 1977: $8,134
*Seller Asking:
$11,900
Fast Facts:
Despite sporting a front-wheel drive configuration, the 1977 Toronado features the same engine as the RWD Pontiac Trans Am
Having the engine in the front allowed for a completely flat floor and an exceptionally large fuel tank in the rear (1975-1978 Toronados feature 26 gallon fuel tanks!)
The optional "Brougham" interior (shown here) equips the Toronado with the most luxurious and individualized interior available (vinyl trim, cut-pile carpeting, courtesy lighting, and a 60/40 split front bench seat with armrest). The plush seat cushions are designed to provide "the feeling of lounging in your favorite chair at home" (Olds brochure)
A unique design element is the two taillights that sit below the rear window, highlighted by the two recessed channels stamped within the trunk lid. Intended as a stylish method of improving visibility and increasing safety, these high-mounted tail lights eventually became a federally mandated feature for the entire industry
1974-1976 Toronados were used as an experimental production run of dual front airbags (an industry first. In fact, the first car equipped with dual airbags was a Toronado ordered by GM president Ed Cole). The system was known as the "Air Cushion Restraint System". These models required a bespoke steering wheel as well as a knee blocker underneath the dash. The dual airbag setup later became a federally mandated feature for all cars as well
Since a FWD layout outs increased loads on the front tires, Oldsmobile engineers worked with Firestone to design a bespoke tire for the Toronado. The resulting tire had a stiffer sidewall and was engineered to last much longer than a standard tire under equivalent conditions
The Toronado's FWD layout results in 62% of its weight over the front wheels (about 1500 lbs on each front tire. Total curb weight is 4,841 lbs!). Even with the special Firestone tire, buyers could see as little as 8,000 to 10,000 miles out of them if driven enthusiastically, according to ROAD TEST magazine. Normal driving conditions permit about 20k miles on the front tires
As the first FWD American car to hit the market in decades, GM spent over 7 years ensuring the system was as durable and maintenance-free as possible. Over 1.5 million miles were accumulated during testing, and prototypes were subjected to conditions that they would never see in their lifetime. This was money well spent, as the design not only worked, but it proved that FWD was a viable alternative for mainstream vehicles
Key Model Year Changes:
First year of the 403ci V8, shared with vehicles like the Trans Am
Mid-cycle facelift occurred this year, which included a new front bumper, taller egg-crate grille, parking lights that now sit underneath the headlights, and more
New illuminated Toronado "T" crest emblems on the front fenders that illuminate when the headlights or parking lights are on
The following year (1978) was the final year of this generation. Changes for '78 include updated front grille (vertical bars), standard radio, new optional "pillow" leather. MSRP increased by nearly $1,000 and horsepower dropped from reduced engine compression
With the rest of the model line-up down sized, the Toronado remained the last full-sized Oldsmobile in production
Seller Notes:
32k original miles
One owner
Rare Firethorn Red Metallic
Beautiful original White interior!
Every electrical option works perfectly
Excellent mechanical condition
Ice cold A/C (converted to R134A)
Has a small dent in the left rear quarter
Runs and drives fantastic
CONTACT SELLER – Update: Seller's Craigslist ad has been deleted (sold or removed from market)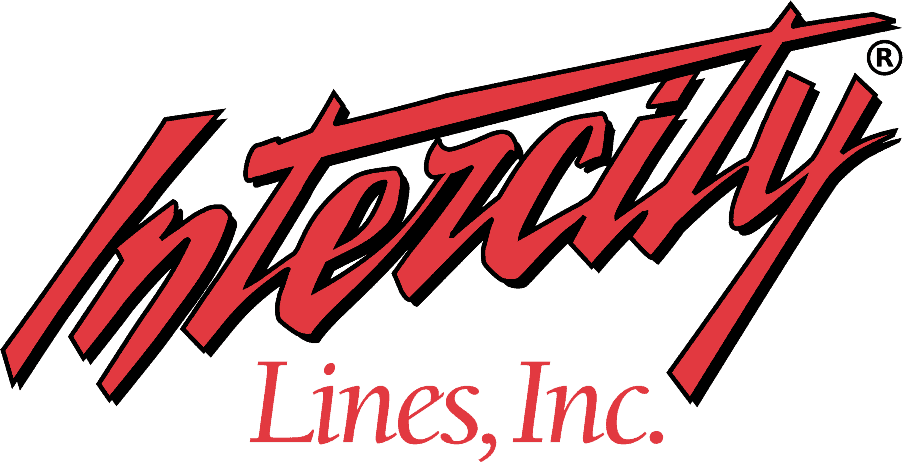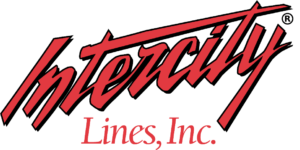 – Click for shipping quote –
NEVER MISS A CAR!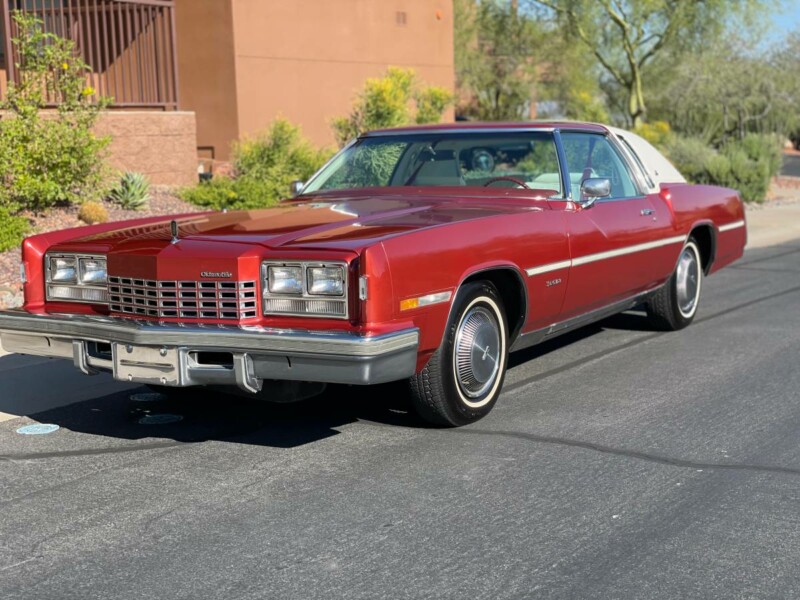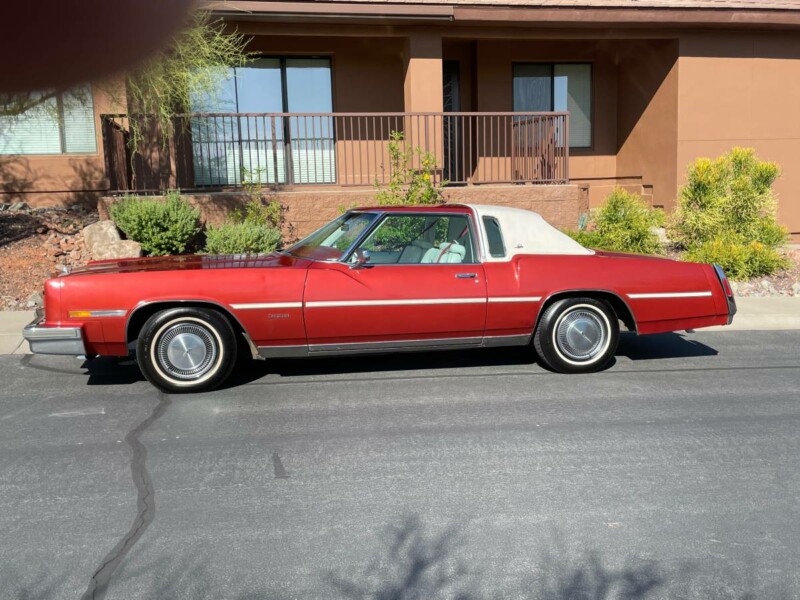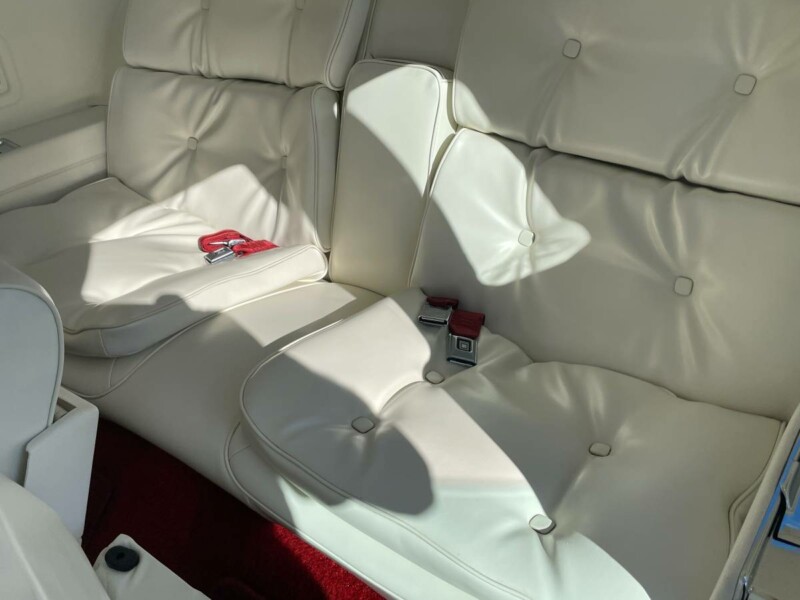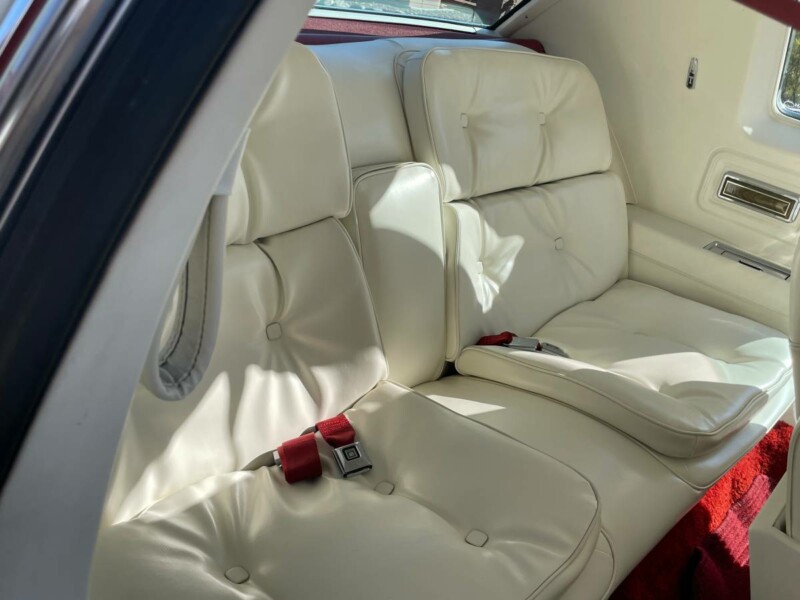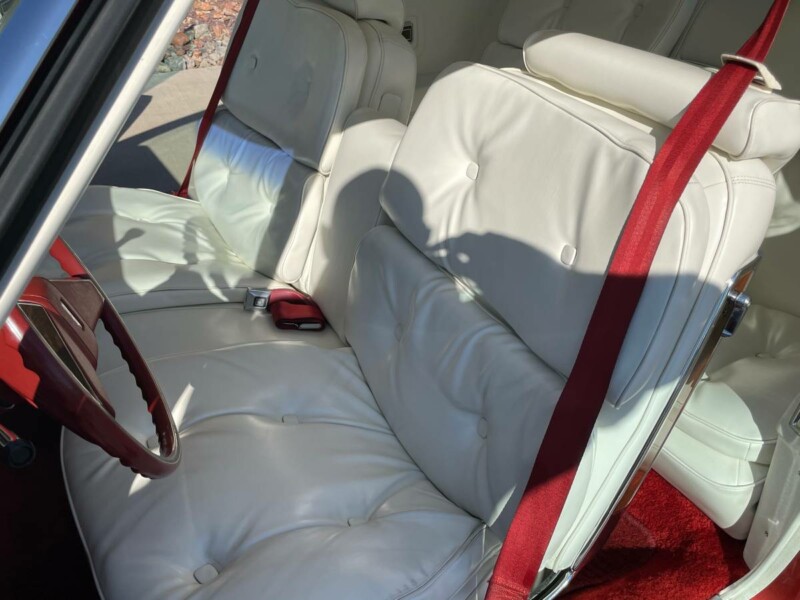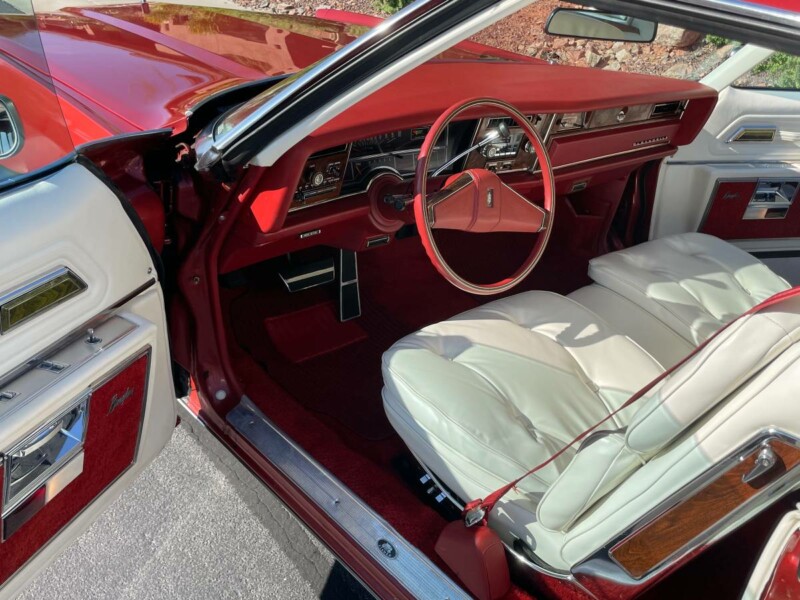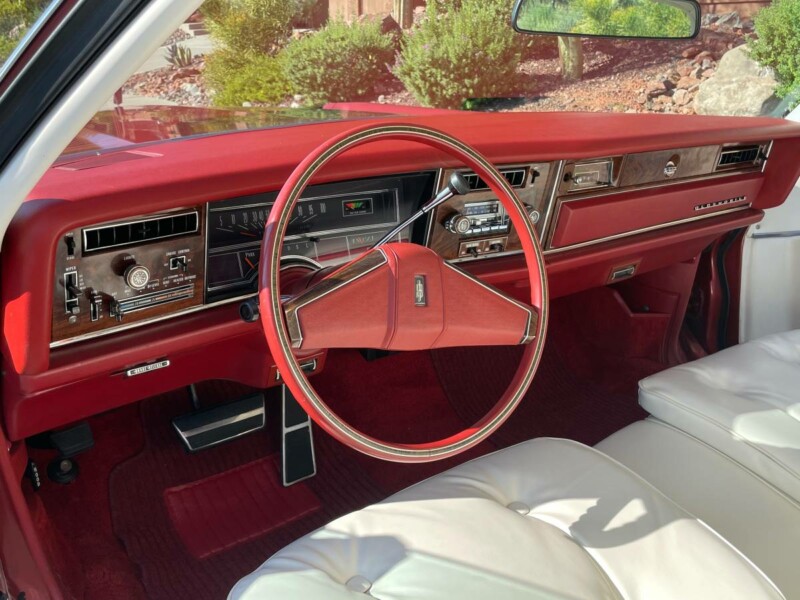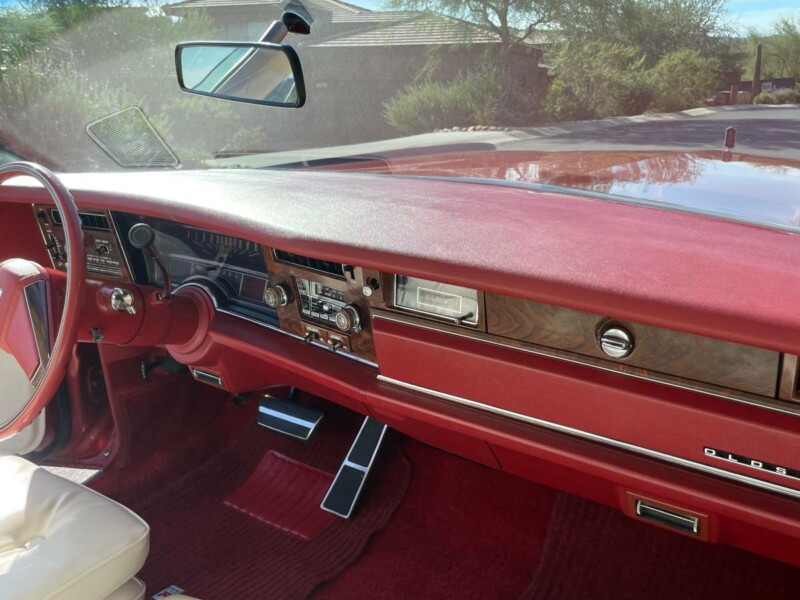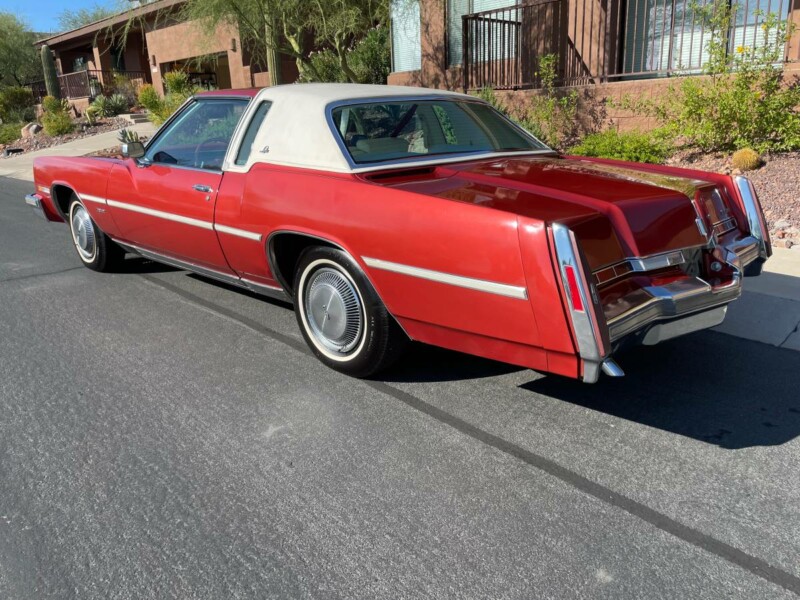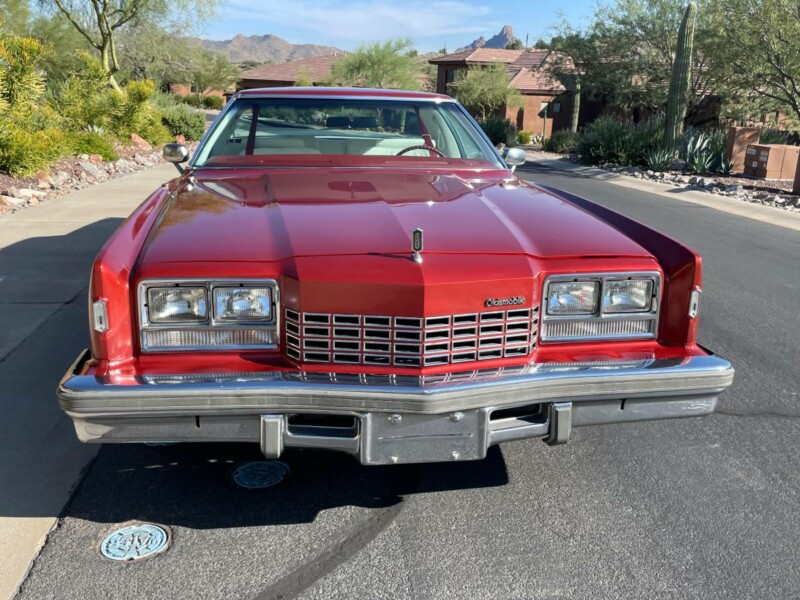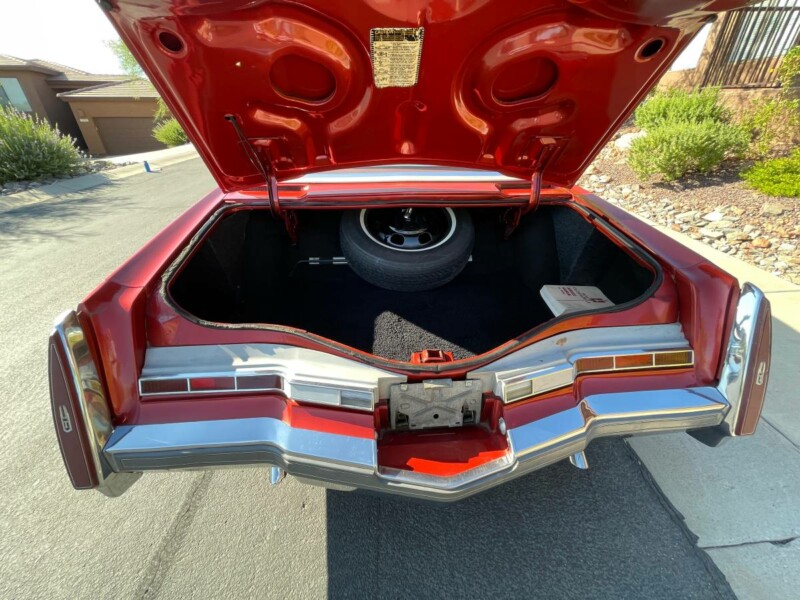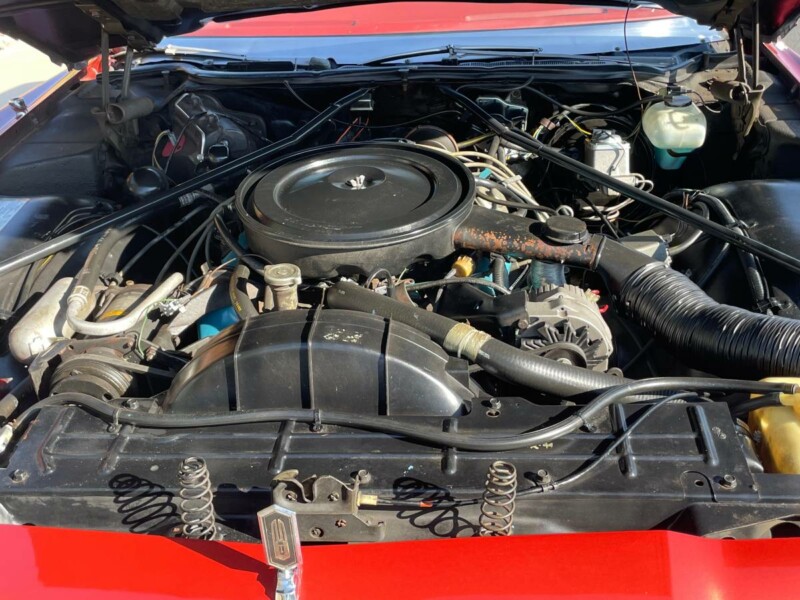 To list your own car, contact us
HERE
.
*SAE rated from factory. May not reflect current output.
*Performance numbers pulled from either the factory brochure or reputable automotive road tests.
*Base price when new does not reflect original MSRP of this particular car, nor does it reflect what the original owner paid for it.
*Advertised price at time of posting. Sellers can raise or lower prices on their original ad at any time. Click on the original ad to view current price/availability.
Mileage Disclaimer: NOC has not confirmed if the mileage stated by the seller is true and accurate. It is up to the buyer to verify these claims. Vehicle history reports, service records stating mileage, and even inspections of odometer tampering are recommended.
Share This Car With A Friend: