22,752 Original Miles
Manual Transmission
4.9L V8
400 hp @ 6600 rpm*
369 lb/ft torque @ 3900 rpm*
Capable 0-60 MPH: 4.2 seconds
Top Speed: 155 mph
*Base Price in 2002: $132,195
*Seller Asking:
$189,990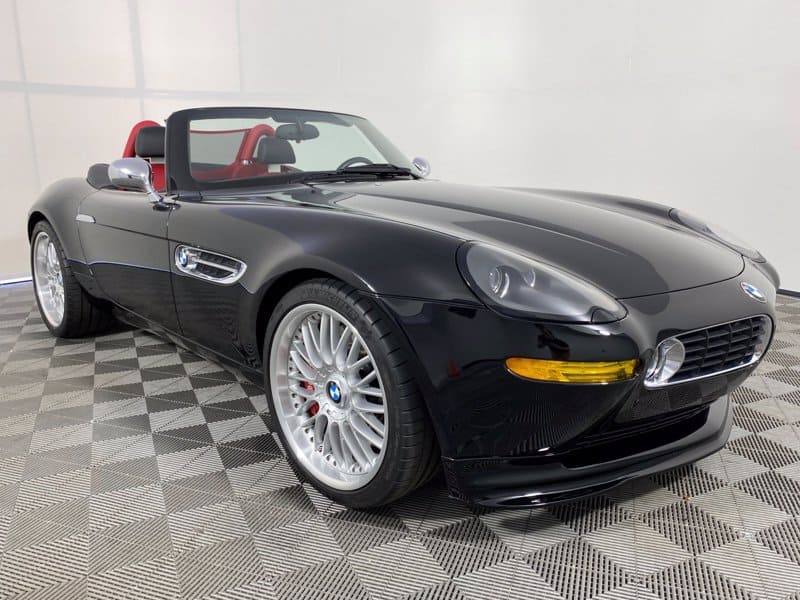 Fast Facts:
The Z8 (codenamed E52) was designed by Henrik Fisker under the supervision of Chris Bangle, who was head of BMW design by this time. The goal was to mimic the iconic BMW 507 from the late 50's
While it was built alongside Rolls Royce cars at BMW's Dingolfing plant, it shared its engine and transmission with the legendary E39 M5. Unlike the E39, however, the engine sat behind the front axle in the Z8, giving it a 50/50 weight distribution
The Z8 was built almost entirely out of aluminum, including its suspension. This meant it weighed over 500lbs less than the M5 (3,494 lbs). Combined with a 3.38 differential (vs. the M5's 3.15) the Z8 was able to hit 60 MPH faster than any other BMW in Motor Trend's history at the time
The M5's engine was virtually unmodified for the Z8 except for the exhaust manifold and a bespoke tuned stainless steel crossover exhaust system. This made the Z8 sound unlike any other BMW at the time
Unlike the M5, the Z8 was fitted with rack and pinion steering. This steering setup would not fit in the M5, forcing BMW to settle with a conventional recirculating ball steering system
The taillights and turn signals were powered by real neon. The neon tubes, which illuminate much faster than standard light bulbs, will never burn out and last the entire life of the vehicle. In addition, there are fiber-optic turn indicator lights integrated within the fender side vents that remain invisible until illuminated
Every Z8 included a paint matched metal hardtop featuring a rear defroster. Unlike most other roadsters, the Z8's hardtop was included in the original design of the car, maintaining a natural and undisruptive look when mounted
Alpina famously reimagined the Z8 by created the "Alpina Roadster" in 2003. Alpina initially wanted to stuff their version of BMW's V12 under the hood, but it simply couldn't be made to fit (the oil sump required the space reserved by the rack and pinion steering). Instead, they had to make do with the M62 V8 from the Alpina E39 5 series (B10)
The Z8 was heavily marketed as an "instant classic". BMW stood by this statement to such and extent that they promised to maintain a 50 year supply of spare parts in order to help preserve the Z8 for as long as possible. This was a big deal, as many of the parts were extremely bespoke and built by hand
Key Model Year Changes:
2002 MY changes are limited to exterior and interior color options
In late 2002, Alpina began taking over Z8 production to create its own Alpina V8 Roadster. However, since BMW was still scheduled to produce the regular Z8 in extremely limited quantity for 2003, it created an overlap between BMW Z8 and Alpina V8 Roadster production
Seller Notes:
Black on Red
Full body clear bra paint protection
Dinan Stage 5 software
Dinan throttle bodies and velocity stacks
BMW – BBS 101 Style 20 wheels (original wheels and tires included)
Brembo Gran Turismo Big Brake Kit, front and rear (original brakes included)
Factory hardtop with cover and stand included, as well as a full car cover
Includes all original equipment (cell phone, coffee table book, all manuals, and keys)
Location: Mount Laurel, New Jersey – (more photos below)
Update: car has been sold

 
NEVER MISS A CAR!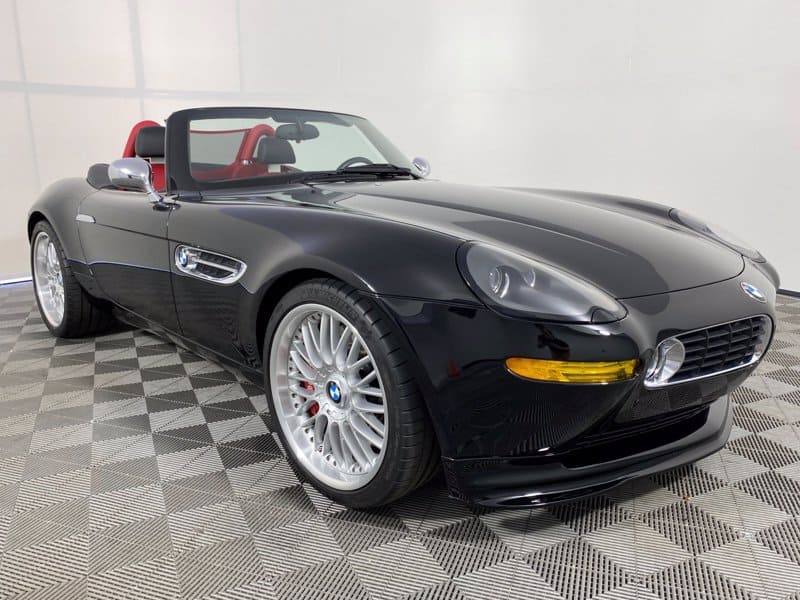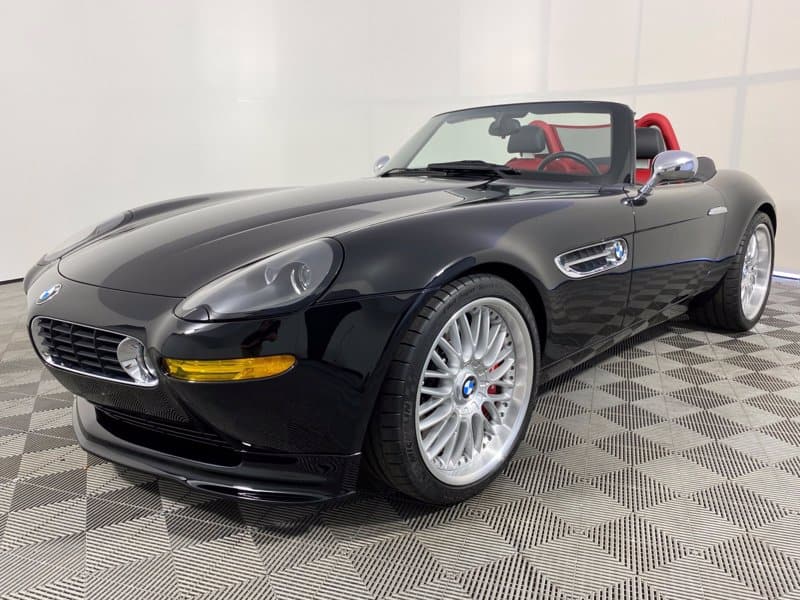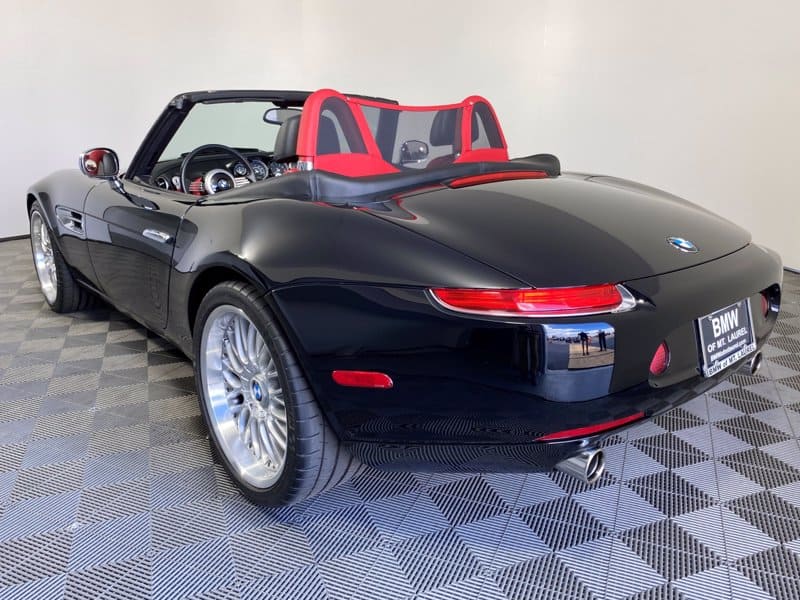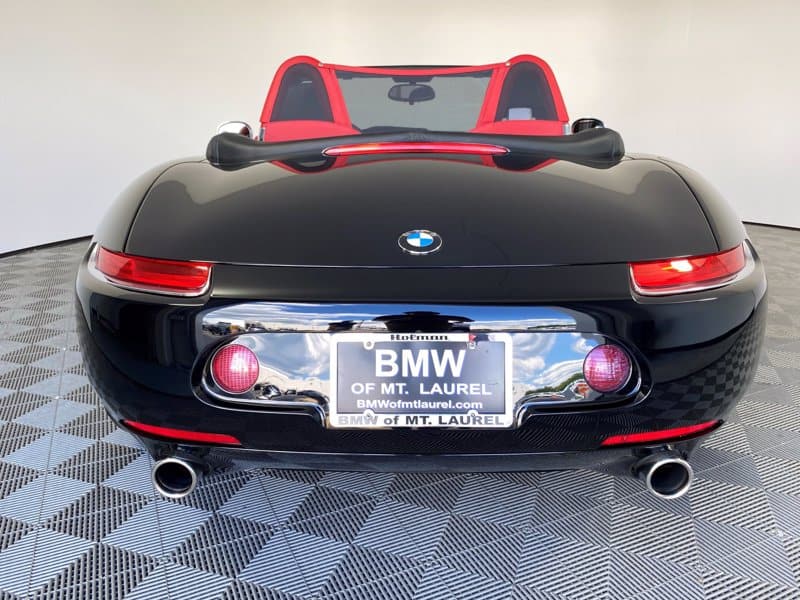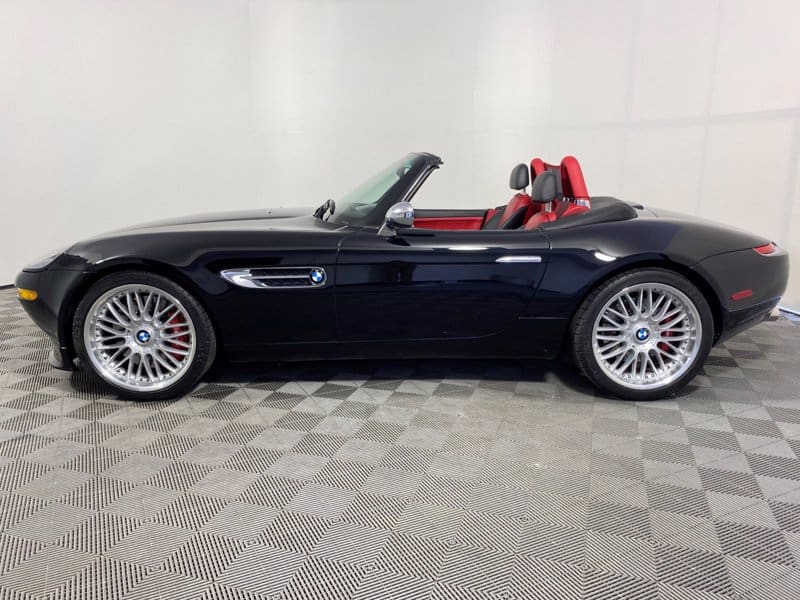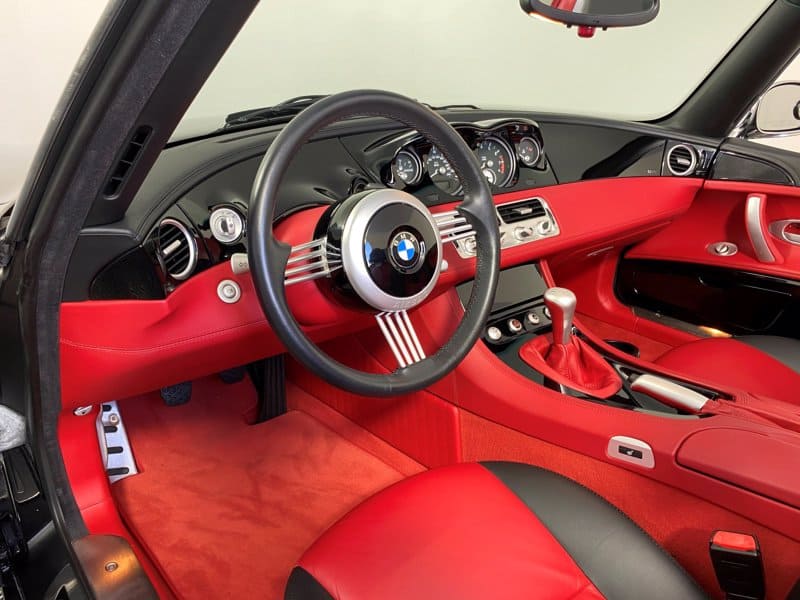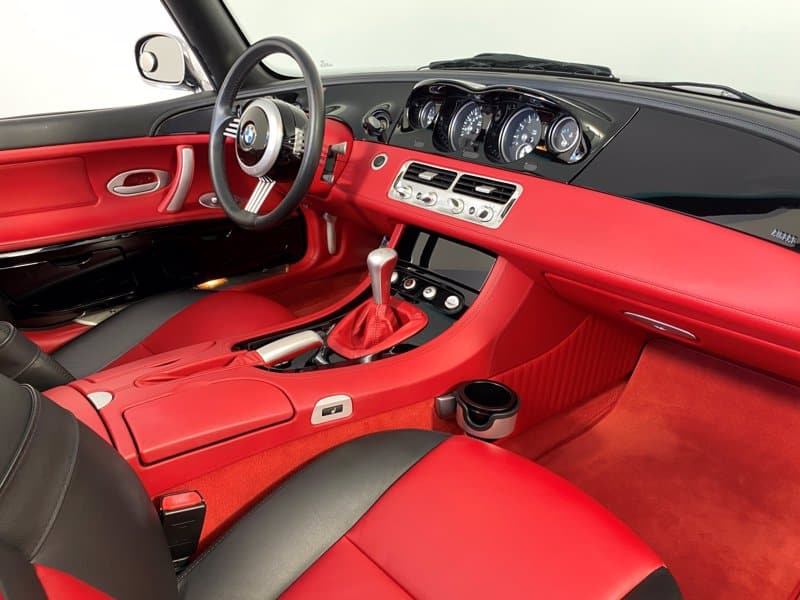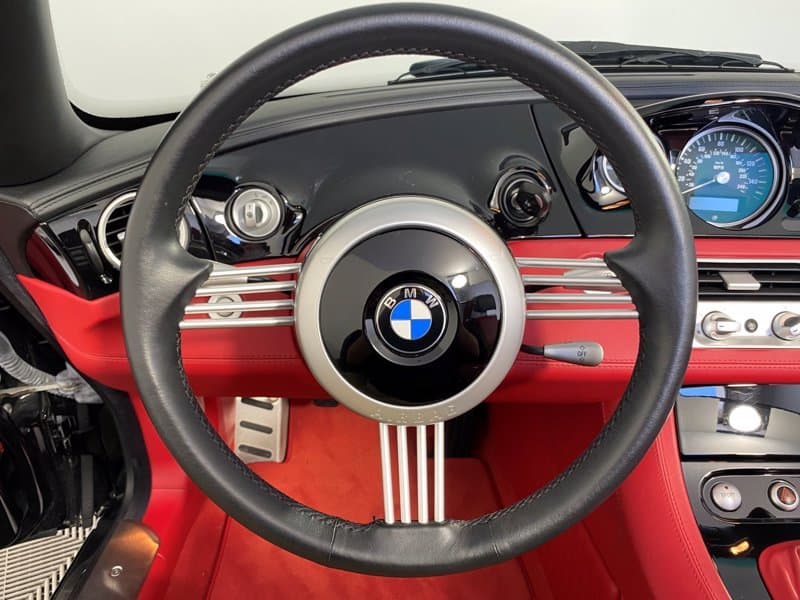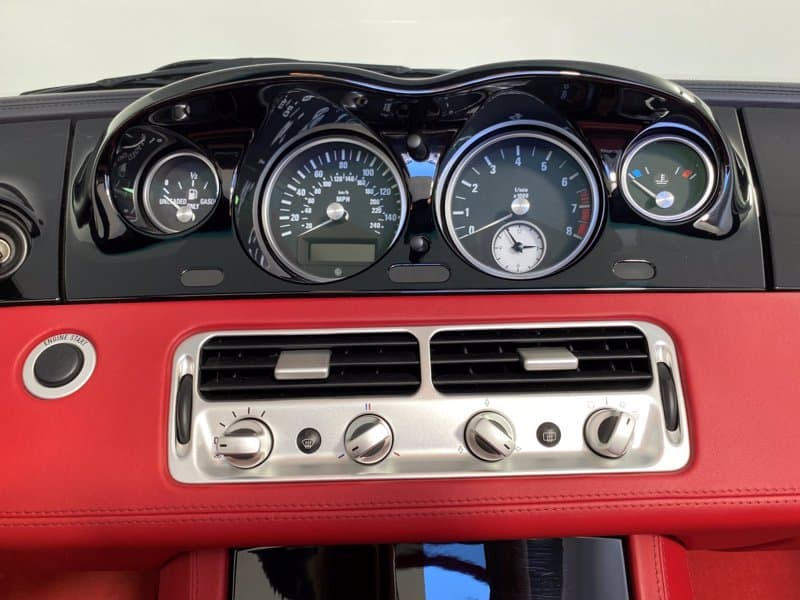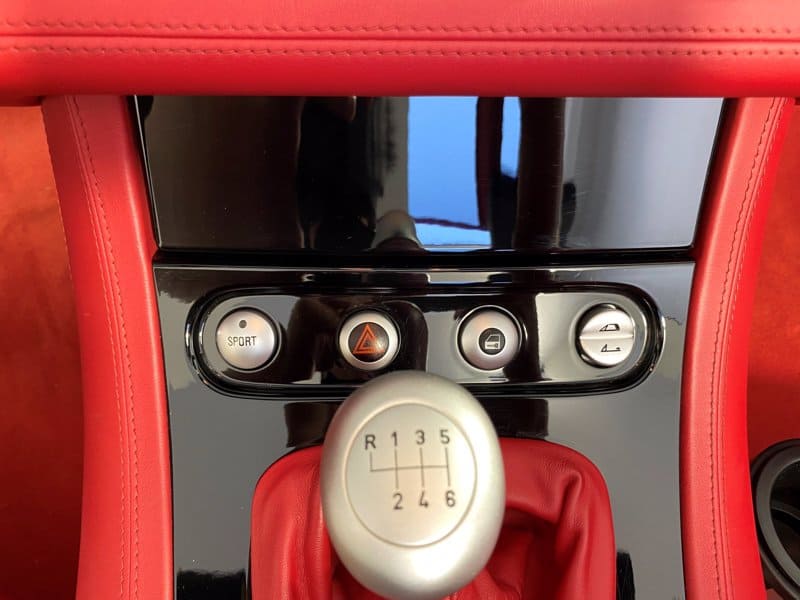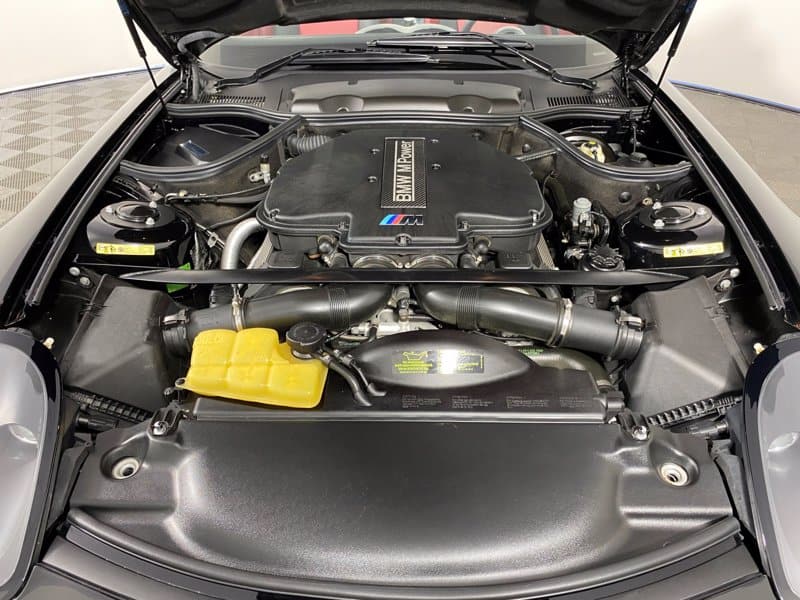 To list your own car, contact us
HERE
.
*SAE rated from factory. May not reflect current output.
*Performance numbers pulled from either the factory brochure or reputable automotive road tests.
*Base price when new does not reflect original MSRP of this particular car, nor does it reflect what the original owner paid for it.
*Advertised price at time of posting. Sellers can raise or lower prices on their original ad at any time. Click on the original ad to view current price/availability.
Mileage Disclaimer: NOC has not confirmed if the mileage stated by the seller is true and accurate. It is up to the buyer to verify these claims. Vehicle history reports, service records stating mileage, and even inspections of odometer tampering are recommended.
Share This Car With A Friend: